Vintage Harvest Estate Sale!
Vintage Harvest Estate Sale
Date: September 30 - October 2, 2022
Friday – Monday
Time: 8am – 2PM
Address : 8816 Wigwam Court Santee CA 92071
CASH PREFERRED,
Venmo, PayPal.

THERE IS A 3% CHARGE ON CREDIT CARDS.

*** ALL SALES FINAL!! — EVERYTHING SOLD "AS IS" ***

We do not test any appliance/fixture
We reserve right to refuse service to anyone.
Altered Prices We may Refuse.
We do not have personnel to help you carry out your large purchases. So please bring help.
You are responsible for removal of items you purchase.
We, or the homeowner, are not responsible for your Injury/Accident.
Please do not block any driveways.
Please bring your own boxes, tape and wrapping paper.
NO LARGE PURSES OR BACKPACKS.
Estate Sales Guidelines: COVID-19
Wear your Facemask!
Maintain physical distancing
Wash your hands frequently with soap and water, or use hand sanitizer with at least 60% alcohol.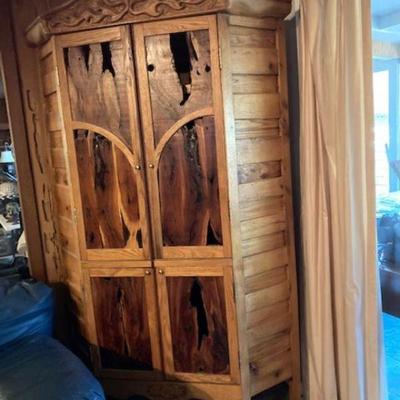 This cabinet was built for Robert and Phyllis Danley of Prescot Valley, Arizona. It was completed April 10th 1994. The redwood used in the doors is manzanita. It came from their previous home in the mountains of Julian, California. The manzanita wood was brought as a stump which was very rotted out and had to be stabilized with resins before being used in the doors. The top area of the doors is mesquite which was found by Robert Danley and the artist in the dry washes of the Hassayampa River near Wickenburg, Arizona. Bob Danlech will not soon forget gathering the wood, since he injured his shoulder in the search, cutting and hauling. The oak wood for the upright corners of the cabinet came from spacers to keep the large pipe separated for fork, lift operations during the widening of Country Club drive in Mesa, Arizona during October of 1993. The remaining oak slates which form the sides, came from pallets used in shipping printing papers. The thin plywood shelving, were commercially purchased. The thicker plywood covered with formica was discarded shelving. Except for the door skins and 1/2 inch plywood used in the cabinet was on its way to a landfill.
Variety of Tiffany Lamps and other Antique Lamps; Antique Hand Crank Wood Case Telephone, Original & Antique Art Works, Tapestries, Macrame, Antique and Contemporary Clocks
Furniture: Dining Table with 6 Plush Chairs, and 6 leaves, Variety of Wood Display Cases, 4 Piece Custom Hand Crafted Cirber Cabinet with curved Redwo od/Oak Design, by Robert L. McLellan (1994), BroyHill Dresser, 4 Piece American Cabin Bedroom Set, 2 Rolling Cedar Cabinets, Antique Trunk, Dressers & Bureaus, Antique Spinning Wheel, Antique & Decorative Mirrors, Singer Sewing Machine, FeatherWeight Singer 221 Sewing Machine, Black Faux Leather CouchBed, Like New Modern Recliners, Antique Sewing Box, and much more
Kitchen: Kitchen Aid & Attachments, Bakers Rack and Table, Le Creuset Cast Iron Pots/Pans, Assorted Wooden Bowles, Gunter Wilhelm Chef Knife Set, Tramontina Knife Set, Colorful Collanders, Delux Whirlpool Refrigerator, LG Delux Steam Washer & Dryer, and much more
Garage: Tools Galore, Makita Hammer Drill, Extension Cords, Numerous Plastic Crates, Table Saw, Electric Hand Saw,
Outdoor: Variety of Plants & Pots, Lightweight Patio Set with Cushions, 10′ X 10′ Gaebo, Gardening Tools Galore,
"For He shall give His angels charge over thee, to keep thee in all thy ways."